Hey Folks,
You may have known me in the past as a "knitchick" but I have decided to finally shake that girlie title and embrace my true knitting nature, that being...VENGEANCE! I work hard, play soft, and knit with a vengeance. The shirt don't lie. I'm one bad mutha...SHUT YO MOUTH. Ya dig?
To explain the whole "vengeance" thing, I first have to tell you about what started my desire to knit. When I was little my Nana (my British Grandmother) was trying to teach me to crochet. But after only a few short, but unsuccessful tries she took my hook from me and crushed my spirit by telling me that I would never figure out how to crochet (she wasn't the nicest of ladies). So, I always had something of a stigma attached to crocheting, but I wanted to be crafty so I decided I was going to learn how to knit. But since I never knew anyone else who could knit, I never got an opportunity to learn. Until...
About three years ago, when I had gone back to my crazy job at this market research firm in Sacramento after graduating from UC, Santa Cruz (Banana Slugs, Baby) I noticed my then co-worker, now friend, Angie, knitting a cute lavender hat/scarf combo at work. I immediately begged her to teach me. (Even though technically I wasn't supposed to befriend her because my boss had hired me back after 1 1/2 year absence to replace her w/o her knowledge but that is a story for another blog =P). Unfortunately, we struggled with the lessons because Angie is a lefty and although I exhibited ambidextrous tendencies as a child (my dad was a lefty and my mom is a righty) there are few things I can still do left-handed now-a-days. So, in my frustration I quit.
Nearly a whole year later, at an entirely different job (I had to get out of EB it was killin' me) another co-worker, Marita, saw me attempting to knit at lunch and asked me if I knew I was doing it wrong. She gave me a few tips for knitting and purling, and within a week I had also figured out how to stop increasing (on accident, that is). With renewed sense of confidence, I tackled some scarves, nothing special, and then took on the ambitious project of knitting a baby blanket for my nephew, Kobe, who was a few months old at the time. Well 6 months, and 4 complete unravels later I finally finished it just a day before his 1st birthday. Happily, he still uses it, and it is still intact after a year and a half or so.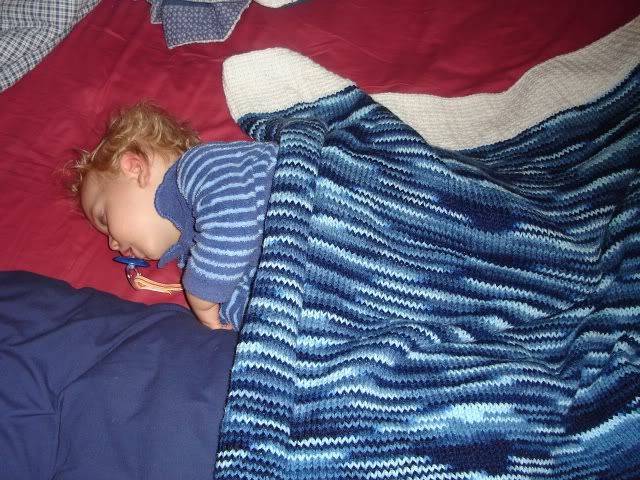 Sweet little Kobe with his 1st birthday blanket
In the last 2 years or so of knitting, I have improved a great deal but I still consider myself a beginner. I can finally knit with DPNs and my beanies are some of my favorite projects so far. My next big undertaking is a hooded sweat shirt from the Stitch n' Bitch book but there are still some scarves and beanies for friends in the queue. In the mean and in-between time though I will continue to be a hard core knitter and keep this blog running on all things knitting!
PEACE, LOVE, AND SOOOOOOOOOOOOOOOOUL TRAIN!!!